Yorkshire Wine Tasting Review
On a sunny afternoon in May Ema and I headed over to the vineyard at Yorkshire Heart to sample their afternoon wine tour followed by tasting and nibbles with a group of friends which I had been bought as a birthday gift. There's something just lovely about being at the Yorkshire Heart vineyard. For a start the setting is idyllic – it's peaceful and pretty and all the better for a warm bit of sunshine – and you immediately start to relax into your surroundings.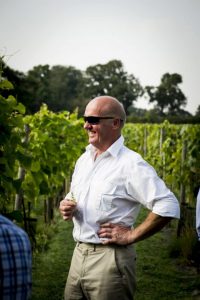 We were served a glass of Yorkshire Heart's wonderful sparkling rose wine to begin our tasting while vineyard owner Chris Spakouskas told us the amusing tale of how he and his wife, Gillian, came to own a 10 acre Yorkshire vineyard. His interesting anecdotes and easy manner made us feel very at relaxed and welcome at the vineyard. One of the lovely things about the tour is that it's a tour for anyone of any background – you don't have to be a wine buff at all.
After taking a short walk to see the vines and learning a bit about growing the grapes and the mammoth task of picking them by hand(!) we headed back to the marquee and sampled the Latimer White, Rose and Red wines over a tasty platter of meats, cheeses and olives (all dietary requirements were catered for). Chris shared a few more of his stories, we chatted to our new vineyard friends and all too soon it was time to head home.
We all had a really lovely afternoon and enjoyed everything about the experience. Chris' passion and enthusiasm for the vineyard is infectious. It's absolutely amazing what he and Gillian and the team have achieved. The wines are fabulous and the food and atmosphere was brilliant.
Cheers to everyone at Yorkshire Heart!
Book the vineyard tour and tasting and enjoy the experience for yourself.