A celebration of some great Yorkshire businesses for Yorkshire Day
Here at Uniquely Local our ethos is based around bringing the best that Yorkshire has to offer to our customers and we wouldn't be able to do that without our fabulous Yorkshire suppliers. Their passion, dedication and professionalism is what makes our experiences so popular and our business successful.
What better day than Yorkshire day – when we celebrate all that is Yorkshire – to focus on a small selection (if we had our way we'd write about all of our suppliers because they're all amazing but that would make for a rather long and rambling blog post so we'll keep it brief) of the independent businesses we feature on the site.
Yorkshire Heart
Vineyard owners Chris and Gillian Spakouskas along with their family and dedicated team pour their heart and soul into Yorkshire Heart, their thriving vineyard and brewery business, at Nun Monkton near York. Anyone visiting the beautiful vineyard on a tour and tasting package will understand the passion that drives them to produce their award-winning wines and beers. Yorkshire Heart is a cracking Yorkshire business that epitomises so much of what makes Yorkshire great. To experience this warm and generous Yorkshire hospitality for yourself book a wine tasting tour with Yorkshire Heart >>
Brewtown Brewery & Gin Distillery Tours
Brewtown beer and gin tours and tastings aim to introduce small groups of curious drinkers to some of the best craft beers and local gins that Yorkshire has to offer. We love the idea of one small Yorkshire business helping other independent Yorkshires businesses. Business owner and tour guide Mark Stredwick exudes Yorkshire warmth and down-to-earthness and anyone joining him on a York tour or a Leeds tour will appreciate this and have a thoroughly enjoyable time. Meet Mark and join a Brewtown tour >>
Beacon Alapacas
We met Jacki from Beacon Alpacas at the Great Yorkshire Show and knew that she was just the kind of supplier we wanted to work with. What Jacki doesn't know about alpacas really isn't worth knowing and if you go on one of her hugely popular alpaca walks you'll see what we mean. She's a regular on the channel 5 Yorkshire vet programme and her business, based at Husthwaite near York, is a Yorkshire business to be very proud of. If you fancy meeting Jacki and her gorgeous alpacas book an alpaca walk >>
Lacey's Cheese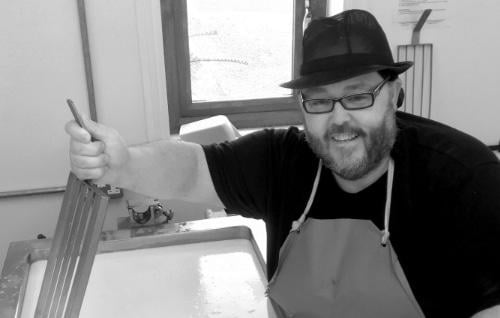 Spend the day with Simon Lacey at his artisan cheese factory in the beautiful Yorkshire Dales national park at Reeth and you will come away with so much more than a good grounding into how to make and package cheese. He might not be Yorkshire born and bred but his warm personality and generosity of spirit make this another wonderfully unique Yorkshire experience not to be missed! Book a cheese making experience with Simon Lacey in the Yorkshire Dales >>
Cooper King Distillery
Scientist Abbie and architect Chris set up their distillery in Sutton-on-the-Forest near York after an Australian adventure which sparked their idea of running a truly independent craft distillery back home in the UK. Join a distillery tour at their self-built whisky and gin distillery in the beautiful Yorkshire countryside and you'll appreciate how they have built their successful business through a mix of true Yorkshire grit and determination coupled with a real passion to build something they could be truly proud of. If you'd like to hear more about the Cooper King story and sample their award winning gin book a distillery tour >>